Single-Stage Furnaces - 80% AFUE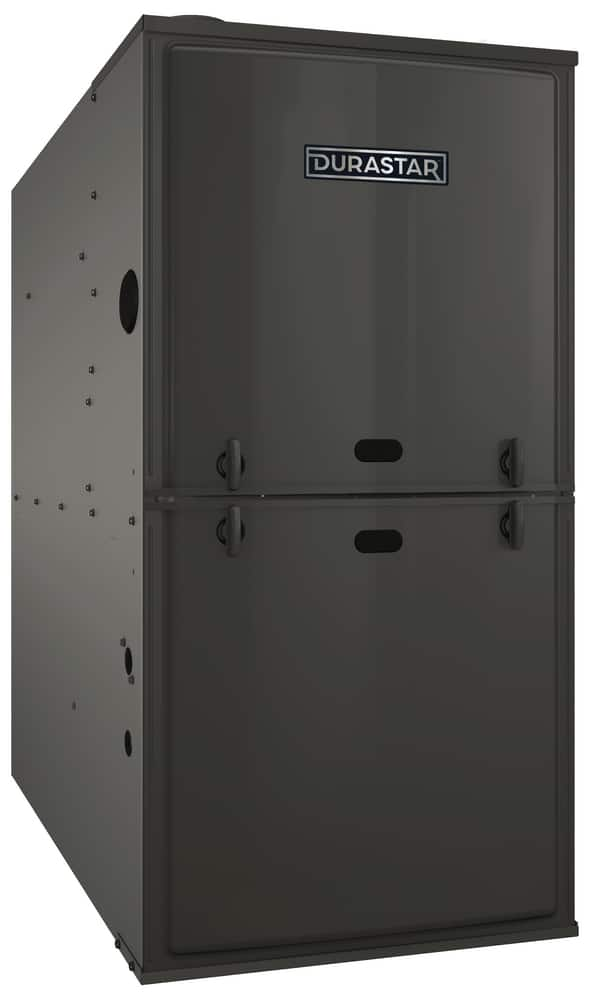 Reliable gas furnaces designed and valued for our customers.
When the cold weather hits, Durastar's single-stage furnaces kick into HIGH gear, warming your home with 100% power. Built to last, each unit is constructed with an aluminized steel heat exchanger that is corrosion-resistant. With a multi-speed constant torque ECM motor, airflow is both steady and reliable, resulting in a comfortable and consistent temperature throughout your home.
These 80% AFUE single-stage furnaces are adaptable for both up-flow and horizontal placements – they are also available in 95% AFUE and with variable speed technology. Durastar's heating and cooling equipment is designed with your contractor in mind, focusing on details that make it easier to install and service your systems. For reliable heating at a friendly price point, pair your single-stage furnaces with Durastar's outdoor units and coils.
Models
DR80UHAT0501314SAN
Warranty
---
No one stands behind their brand like we do. Durastar offers durable airflow during even the harshest heating and cooling conditions. In addition, our warranty provides maximum coverage for total peace of mind.
Extended warranty options are available for both parts and labor. Talk to your contractor for more information.
Learn More
Explore tax credits and rebates
Single-Stage Furnaces - 80% AFUE Features
---
HVAC equipment products sold to licensed contractors only. Products sold in select areas only, please contact your local branch for availability in your area.
Not all Durastar products may be available in all areas currently. See your local Durastar distributor for details.
Constant torque ECM motor maintains efficiency across a range of operating speeds for increased energy savings
Direct spark ignition system is one of the most dependable ignition systems on the market
Aluminized steel constructed heat exchanger provides maximum corrosion resistance and thermal fatigue reliability. It is also removable for improved serviceability
Low profile 34" cabinet is ideal for space constrained installations
Diagnostics: Industry-first, 7-segment LED for quick & easy service
DR80UHAT0501314SAN
---
AFUE: 80.00 %
BTU: 50000
BTU Heat Rating: 40000 Btu/h
Blower Type: Direct Drive
Communicating: Non-Communicating
Condensing: No
Configuration: Upflow,Horizontal
Energy Star Compliant: No
Fan Speeds: 5
Flue Size: 4
Fuel Type: Natural Gas
Height: 34 in
Horsepower: 1/2 hp
Ignition System: Direct Spark Ignition
Length: 28 in
MBH: 50
Phase: Single Phase
Power Source: Gas
Specifications - UL Listed: Yes
Stages: Single
Style Name: DR80UHAT
Tonnage: 3 Ton
Type: DR80UHAT0501314SAN
Volts: 115V
Weight: 110 lb
Width: 14 in
Frequently Asked questions
Is an air handler or furnace better?
Both Durastar's furnaces and air handlers offer dependable options for distributing even airflow throughout your home. When selecting between the two, consider your location and climate. For areas with long warm seasons, an air handler will likely be more energy-efficient, however, we recommend discussing your options with a licensed contractor to ensure the best combinations of HVAC products for your home.
What does variable speed mean?
Variable speed air handlers operate at the lowest possible speed to achieve your desired indoor temperature. This results in increased energy efficiency. Variable speed units are also quieter than standard units.
Is a two-stage air handler more efficient than a single-stage air handler?
Yes, when paired with a two-stage outdoor unit, both units will operate on low capacity during milder days, requiring less energy; and switch to full capacity and power when needed.
What is AFUE?
Annual Fuel Utilization Efficiency (AFUE), is a standardized measure of efficiency for how furnaces and boilers convert energy to useable heat.
What is the main difference between a furnace and a heat pump?
Furnaces burn fuel to generate heat whereas a heat pump draws air from outdoors across the condenser coil, either releasing heat to the outdoor air when in cooling mode or absorbing heat from the outdoors, even in the coldest weather in heating mode.
How often should my furnace be serviced?
Durastar recommends your furnace to be serviced at least once a year to ensure it is functioning optimally and providing maximum comfort.
How to talk to your contractor
---
Learn how to talk the talk with a few of our top tips. We cover important questions to ask your HVAC contractor, common mistakes when buying a new system, and more.
Learn More
---